Edinburgh's Caledonian Hotel sold for £85 million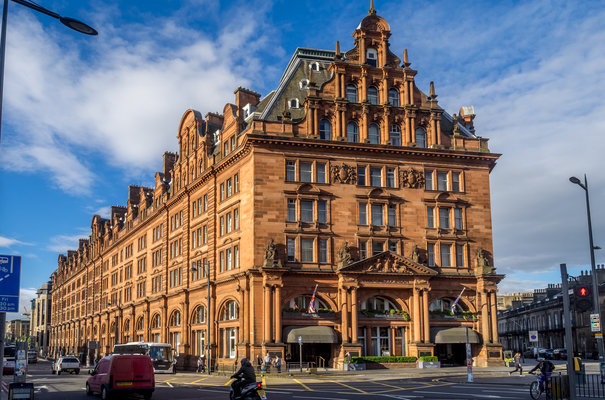 HOW much does it cost to get a hotel in Edinburgh? For one Adu Dhabi firm, the answer is £85 million.
The Caledonian, known by locals as The Caley, is to undergo a £20m overhaul after being acquired by Twenty14 Holdings in what is the biggest single asset trade in the UK regional market in a year.
I KNEW ACCOMMODATION IN THE CAPITAL WAS STEEP
Well, that depends. Prices in some hotels wer found to triple over the Hogmanay period, and there are annual complaints about the cost of staying in the city during the Festival.
Operators say this is all down to supply and demand, and maintain they offer value for money.
City leaders say high visitor numbers and hotel bills justify the introduction of a so-called tourist tax to raise £15m a year for public funds, but the Scottish Government has said it has no plans to legislate for this.
WHY IS THE CALEDONIAN SPECIAL?
It hasn't made the big bucks for nothing.
Operated under the Waldorf Astoria brand, it has 241 rooms, with plans afoot to add another 50 to this over two years.
A landmark cited at the west end of Princes Street, it opened in December 1903 to serve rail travellers. Its construction was ordered by the Caledonian Railway Company and took four years.
While nationalisation in the 1960s saw time called on Princes Street Station, the A-listed hotel survived the demolition of its terminal.
The upmarket accommodation now boasts two restaurants operated by Michelin-starred sibling chefs Chris and Jeff Galvin and the UK's only Guerlain spa.
While fresh refurbishment plans are booked, with plans including bespoke furniture by local makers and "eclectic" artwork, decorators were last called prior to its reopening as a Waldorf Astoria site just six years ago.
WHO ARE THE BUYERS THEN?
Twenty14 Holdings is the hospitality arm of Lulu Group International, which is led by Indian businessman Yusuff Ali Musaliam Veettil Abdul Kader, who is said to have a personal fortune of $5.2 billion.
Adeeb Ahamed, managing director of Twenty14 Holdings, said the company is "excited" by the acquisition, adding: "With more than 100 years of history, The Caledonian brings with it a rich heritage, character and unique opulence.
"We are honoured to be part of this Scottish landmark that has a great significance for locals and visitors alike and look forward to adding to the experience The Caledonian already offers."
JLL and HVS Hodges Ward Elliott jointly advised on the sale. JLL also arranged the debt financing for the purchaser.
Will Duffey of JLL said: "The hotel has long been seen as a jewel in the crown of the UK hotel market.
"Our client's recent refurbishment programme repositioned the hotel to its former glory when it reopened as the first Waldorf Astoria in the UK in 2012.
"We are delighted to have advised on this irreplaceable trophy hotel overlooking Edinburgh Castle to an investor who will preserve and protect this most important of assets for generations to come."
Source: http://www.thenational.scot/news/15845107.Largest_Scottish_hotel_sale_in_three_years_goes_ahead_in_Edinburgh/