Twenty14 Holdings' Dubai Property Wins "Luxury Hotel of the Year" Accolade At Luxury Travel Guide Awards 2016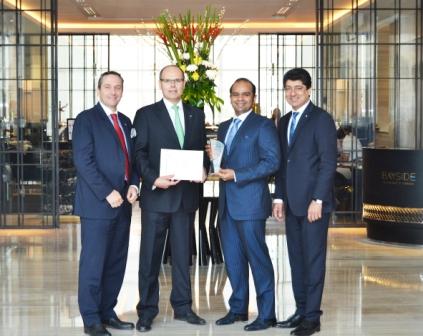 Luxury Travel Guide showcases the finest accommodation providers in the Middle East and the award is a huge achievement for the Steigenberger Hotel, which is a relatively new kid on the block.
Priding itself on impeccable efficiency and service, Steigenberger was voted a clear standout favourite against the competition, leading in its category on concept, service, facilities, F&B and diversity in offering.
Adeeb Ahamed, Managing Director, Twenty14 Holdings, said: "We are extremely honoured to win the Luxury Hotel of the Year award. This is our second award for this year and it is always a great feeling to receive global recognition from the best in the industry. We will continue to uphold our position as the destination of choice for our guests across all our properties and this award inspires us to keep improving our services and ensuring that we offer an experience that is second to none."
Eirik Bergvoll, General Manager at Steigenberger Hotel Business Bay, Dubai said: I speak on behalf of my team when I say this award will inspire our service spirit and we are excited to continue delighting business and leisure travellers with our elegant and contemporary property".
This is the second award win in 2016 for Steigenberger as the hotel collected "The Leading New Hotel" accolade at the Leaders in Hospitality Awards 2016, just last month.
Twenty14 Holdings
Twenty14 Holdings is a leading hospitality investment firm, focusing on acquisitions and management of assets throughout the globe.
Founded in 2014, Twenty14 Holdings has invested over $650 million in assets across the Middle East, UK, and India.
The vast portfolio of properties under Twenty14 Holdings are operated by leading luxury hotel management companies including the Steigenberger Hotel Group, Marriott International and Starwood Hotels & Resorts.
Source: https://www.hozpitality.com/news/announcements/twenty14-holdings-dubai-property-wins-luxury-hotel-of-the-year-accolade-at-luxury-travel-guide-awards-2016